Introduction
In November of 2022, Greenbuild hosted its annual Greenbuild International Conference + Expo in San Francisco. As we are always on the quest to learn more about sustainability, and share our newfound knowledge, here is a list of the main takeaways from our visit at Greenbuild 2022.
Re-using resources and minimizing waste
While we all know the phrase "Reduce, Reuse, Recycle," it is important to note that the phrase is listed in order of importance. While recycling is great, it is more important to not create waste in the first place. When demolition of buildings is required, actual salvage of re-usable materials (for direct re-use in construction) is a challenging but worthwhile goal. The Elements of Living Construction System is still a unique example of design for re-use.
Lowering embodied carbon to reduce carbon footprint
Embodied carbon refers to the carbon dioxide created from an entire lifecycle of a building: from constructing materials, to assembling the building, to demolishing and transporting the waste. One of our main goals, as a company in the housing industry, is to reduce the carbon footprint of our projects as much as possible. Some ways we are able to do this are:
Instead of building new homes: reuse them. Historical architecture is helpful in many ways. Not only to keep the historic accuracy maintained in our communities, but it is also a green building method. Instead of needing to build, transport, and assemble the framework, we only need to adjust the current building to the clients needs.
Salvaged materials – reuse brick, stone, metals, and wood,
Use low carbon materials: avoid aluminum, plastics, foam insulation. Use wood instead of steel. Even better: options like straw or hemp insulation are annually renewable.
Use recycled materials: especially with metal. Virgin steel can have a carbon footprint 5 times greater (source: AIA). Similarly, concrete with recycled slab content can have a much lower footprint than virgin concrete.
WELL institute's integration into LEED/USGBC standards
A huge takeaway from the event was learning about the overlap of WELL and LEED. A little background: WELL Building Institute (IWBI) manages the Well Building Standard, which is a guide to creating better buildings for human health and well-being. Additionally, the United States Green Building Coalition (USGBC) manages LEED (Leadership in Energy and Environmental Design). According to their website, "LEED provides a framework for healthy, efficient, carbon and cost-saving green buildings." Basically, the WELL Building Standard focuses on human health, while LEED focuses on building sustainability.
While the WELL Building Standard and LEED have different focuses, there is a surprising amount of overlap between sustainable buildings and human health. For example:
Air quality: having proper air filtration, smoke control, and operable windows are important for energy and for human health.
Construction methods: Pollution and waste management are both great examples of building health and human health can overlap.
Materials and resources: One of the main reasons Elements of Living has been such a passion of ours, is because drywall is terrible not only for the environment, but the dust during construction is detrimental to our health as well.
Jane Fonda's speech
Of course, the highlight of the expo was activist Jane Fonda's speech. Jane Fonda has been involved in climate change activism for decades, currently heading the Jane Fonda Climate Pac, whose goal is to limit fossil fuel lobbyists. She took the time to be the keynote speaker at Greenbuild 2022, touching on her past in climate change activism, and what she plans to do to continue her fight, while also being lighthearted about her recent cancer fight (and thankfully, more recent remission.) "Don't lose your focus. Keep finding better and better ways to make buildings healthy, resilient, and green," she said. "Be brave, and let that metastasize—I have cancer on the brain, but, I mean in a good way—spread it around."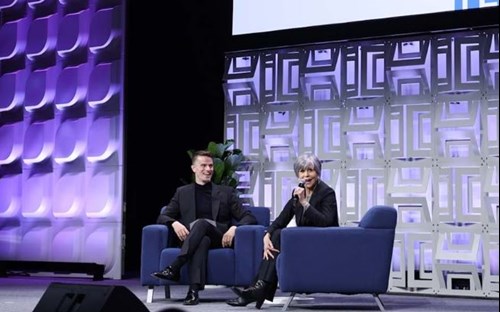 CONCLUSION
There was so much to take away from this conference. From learning about the importance of lowering embodied carbon, to the integration of the WELL Institute into the LEED/USGBC standards, to the wonderful interview with Jane Fonda, we came back from this event with more knowledge, and more inspiration than ever to continue our efforts toward sustainable architecture.